Components Technology
From High-Performance Crystals to Optical Modules and Components.
Every Oxide product shows top-notch performance thanks to our optical and packaging technologies.
Our experienced engineers design and manufacture for you variety of high-performance, high-efficiency, high-reliability optical modules and components by combining our hi-performance optical crystals with our optical design knowhow and high-precision packaging technology.
Component Technologies
We integrate into our modules high-performance optical crystal and high-efficiency wavelength conversion devices much needed in today's era of photonics. As such Oxide crystal modules can be readily assembled to your systems.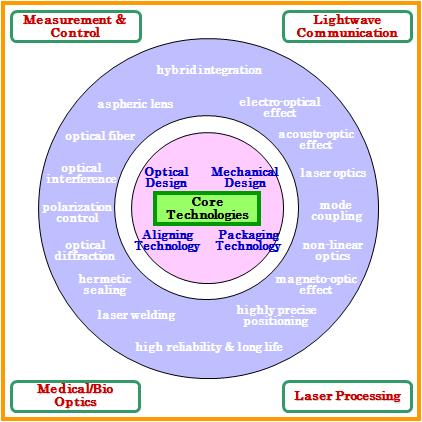 Our optical modules, components and subsystems are designed and fabricated based on such micro-optics technologies as lens optics and fiber optics to in order to give the maximum performance.
In packaging process, we employ highly reliable assembling technique such as laser beam welding, reliable enough to withstand the severest working environment. In particular, for such application as optical semiconductor , where contact with air and humidity is a taboo, we manufacture the devices in special facility designed for hermetic sealing in nitrogen –filled environment.
Applications
Oxide products and technology are versatile in application fields, including optical communication, measurement, laser processing, medical/bio-photonics.
Optical communication, optical measurement, laser processing, medical/bio photonics and many other fields.
Listed below are some of the products we have developed utilizing such optical properties as wavelength, polarization and dispersion etc.
Communication
Tunable Dispersion Compensator for ultra high-speed and large capacity communication Polarization Controller
Wavelength Filter, Wavelength Convertor
Measurement
Current Sensor, Voltage Sensor, Optical Interferometer
Light Source Module for Mid-Infrared Light Generation
Processing
Laser Wavelength Conversion Modules
Medical/Bio
Laser Wavelength Conversion Modules
Contract Development Service
Prototype development and OEM manufacture tailored to each customer needs