532 nm
Fiber Out 532nm CW Laser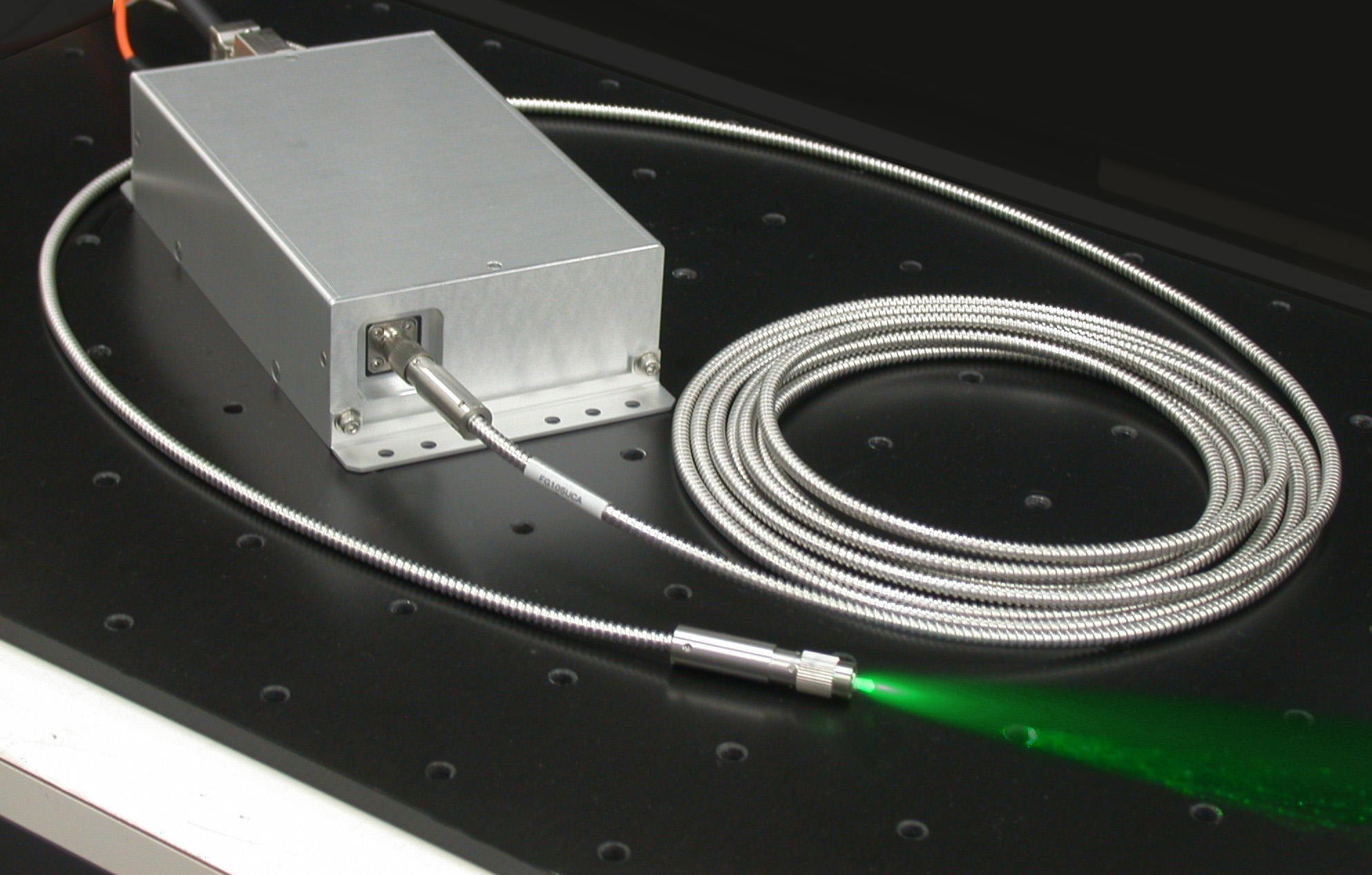 <Feature>
This device converts 1064nm infrared CW fiber Laser beam into 532nm green light and output it in fiber.
Easily integrated with cameras and systems.
<Application>
Particle Image Velocimetry
Particle Size Measurement
High Speed Imaging
<Head Size>
100(W) x 45(H) x 160(L)mm – Heat Sink not required
<Specifications>
Output Fiber
Multimode fiber (FG105UCA φ100um core diameter)
Fiber length: 5 +/- 0.3m (φ5mm steel use stainless pipe)
FC(APC)—FC(PC)
Center Wavelength
532 +/- 0.1nm
Optical Output
≧ 3W
Pulsed UV/Green Fiber Laser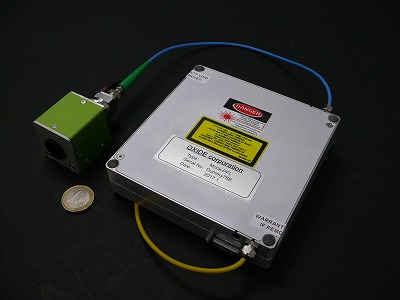 Features
Application
Underwater inspection
Raman spectroscopy
Aerosol detection
Sensing (LIDAR)
Specification(preliminary@25℃)
Model

UV

Green

Mode of operation
Pulsed
Pulsed
Wavelength
355nm
532nm
Pulse energy
~1.6μJ
~12μJ
Peak power
~1.6kW
~12kW
Average power
~80mW
~500mW
Power tunability
20-100% 
Output Type
Free space 
pulse repetition rate
50kHz 
Pulse duration
~1ns
 ~1ns
 Polarization
 Linear(vertical) 
 Beam Quality(M2)
 <1.5
 <1.4
 Fiber laser size
120(W)×27(H)×120(L)mm3 
 Convertor size
36(W)×36(H)×97(L)mm3
 36(W)×36(H)×40(L)mm3
Option
Collimated output
Other Wavelength
Customized packages, OEM
Dual wavelength output (1064 nm/532 nm)
Above products are based on results obtained from a project commissioned by the New Energy and Industrial Technology Development Organization (NEDO).
CW 532nm Laser
<Features>
CW 3W TEM00
Single Pass Configuration
Cost Benefit
Connector Detachable
<Application>
Flow cytometer
Alternative Gas laser
Fluorescence microscope
Medical care
Microfabrication
LiDAR
<Specification>
Wavelength
532nm
Free Space Output Power
>3W
M2
<1.2
Beam Ellipticity
<10%
Polarization Extinction Ratio(Ts:Tp)
1 : 100
Laser Head Dimensions (LxWxH)
(Head: No Heat Sink)
110mm x 78mm x 64mm
Consumption
<300W