Dr. SPECKLE Model: SM01VS11 (Preliminary)


Exposure-time Dependent Speckle Noise Evaluation Tool
Features
The SM01VS11 is equipped with Electron Multiplying CCD camera.
Up to 20 times enhancement of the sensitivity compared to the current system model SM01VS09 is feasible.
The SM01VS11 can measure speckle contrast at the specific exposure time close to human eye response time,
which is estimated to be approximately 80 ms.
A wide range of the exposure time in measurement allows for user to set it almost freely.
The software for SM01VS11 is as functional as the software for Dr. SPECKLE series.
Applications
Speckle noise evaluation of laser displays using temporal-averaging type speckle-reduction device.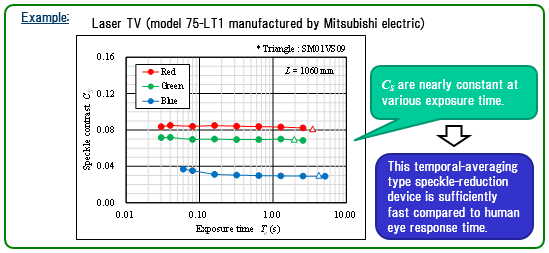 Specification (tentative)
Speckle measurement

Measurement value

Speckle contrast CS = σ / Ibar

Range

0.01 ~ 1.00

Measurement conditions

Luminous Flux

10 lm (lumens) or over (monochromatic)

Wavelength

Visual light region

Projection image

Light beam with spatial uniform and temporally static image

Camera

Image sensor
Electron Multiplying CCD image sensor,260 thousand pixels (512×512)

Shutter

Electronic shutter

A/D conversion

16-bit (65,536 gradation)

Color

Black & White

Exposure time(shutter speed)

0.01~6.5s

Aperture size

Pinhole diameter: φ1.2mm

Filter wheel

Filter type: Red,Green,Blue,ND(OD:2.0)

Consumption

150 W (without computer)

Outer dimensions and weight

Speckle meas. unit

366 (L) ×132 (W)×222 (H) mm, 5.8kg

Control Unit

253 (L) ×215 (W)×154 (H) mm, 4.2kg