FL-PL Series|Green/UV/DUV portable nanosecond pulsed laser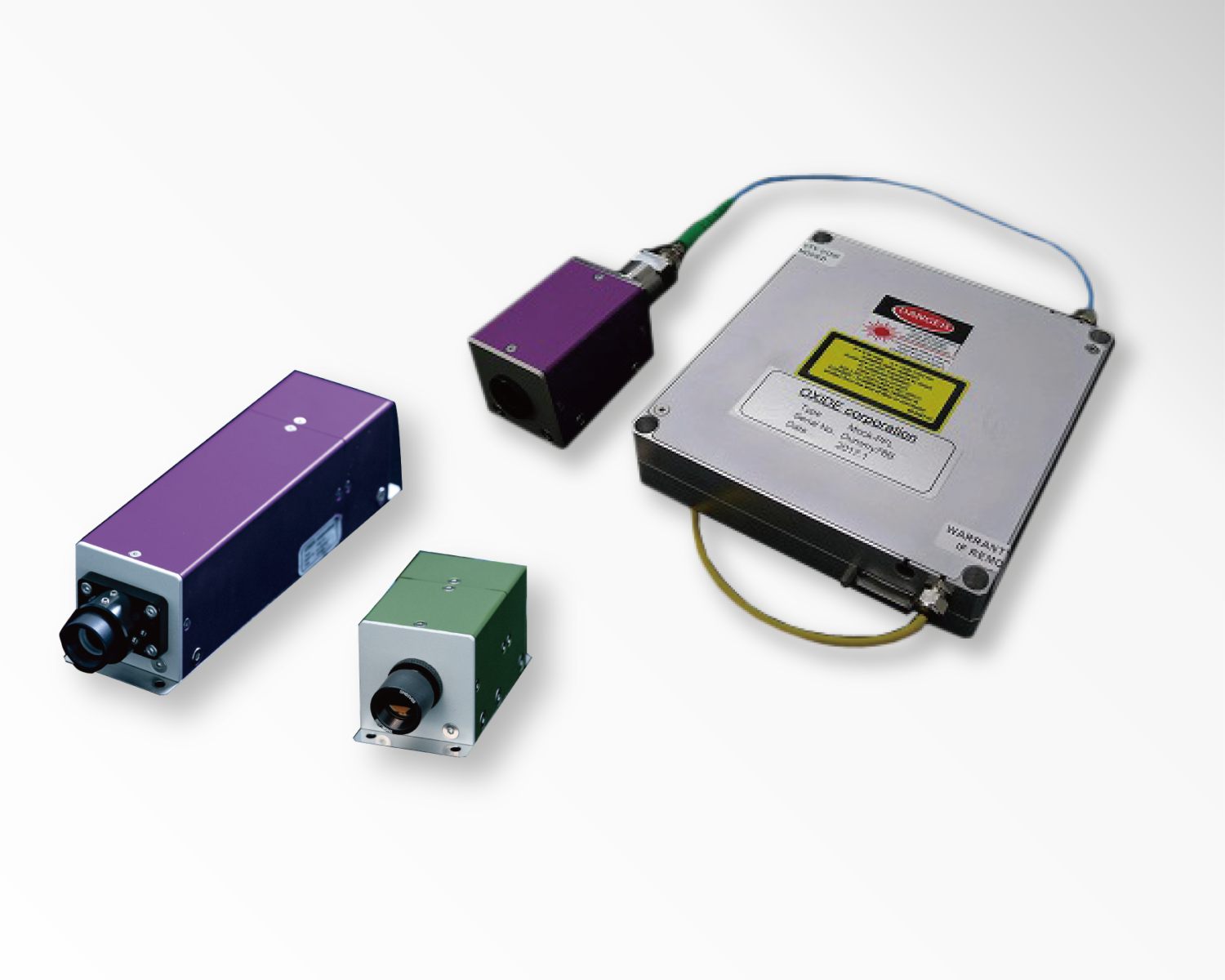 Product Overview
Combination of frequency convertor with 1064nm nanosecond pulsed fiber laser realized 532nm(Green)/355nm(Ultra-violet(UV))/266nm(Deep-UV(DUV)) laser light. OXIDE's nonlinear optical crystals with high quality and functionality are integrated into the frequency convertors. High repetition rate (50 kHz) and high peak power are suitable for sensing applications such as LiDAR. In addition, optimized optical design without resonators realized simple, high reliability, and lightweight laser units.
Features
Compact (portable)
 Both the fiber laser and the wavelength converter are palm-sized. Furthermore, total weight is less than 1.5kg (3.3lbs)*. (*power supply is not included).
High peak power / High repetition rate
 High conversion efficiency offers >10kW peak pulses at 532nm and >1.5kW at 355/266nm. The pulse repetition rate is 50kHz which is suitable for sensing to improve S/N ratio for measurement.
High reliability
 Maintenance free by OXIDE's spectacular quality crystals and the high stability fiber lasers. Optimization of nonlinear device and optical design realize compact reliable solution.
Wavelength selectable
 Wavelength converters are compatible design. Customer can select wavelength by exchanging frequency convertor with the same 1064 nm fiber laser.
Applications
LiDAR 
Bioanalysis
Virus inactivation
Raman spectroscopy
Aerosol detection
Specifications
Model
FL-PL-SHG
(FL-PL-SHGFM)
FL-PL-UV
FL-PL-DUV
Pulse Repetition rate
50 kHz
50 kHz
50 kHz
Pulse Width
~1 ns
~1 ns
~1 ns
Wavelength
532 nm
(532・1064 nm)
355 nm
266 nm
Output Power (Average)
500 mW
(500・500 mW)
80 – 200 mW
100 mW
Pulse Energy
~ 10 µJ
~1.6 – 4.0 µJ
~2.0 µJ
Peak Power
~ 10 kW
~1.6 – 4.0 kW
~2.0 kW
Beam Quality (M2)
<1.4
<1.5
―(Elliptical)
Polarization
Vertical, Linear
Vertical, Linear
Horizontal, Linear
Power Tunability
20 – 100 %
20 – 100 %
20 – 100 %
Output Type
Free space
Free space
Free space
Dimensions (Fiber laser)
120×27×120 mm
Dimensions (Convertor)
40×40×62 mm
40×40×87 mm
40×40×128 mm
40×40×138 mm
Features/Application

Integration for drones and Submarines
Underwater LiDAR

Integration for drones
Aerosol detection
Underwater LiDAR

Virus inactivation
Aerosol detection
※These products are based on results obtained from a project commissioned by the New Energy and Industrial Technology Development Organization.