CW 266 nm DUV Laser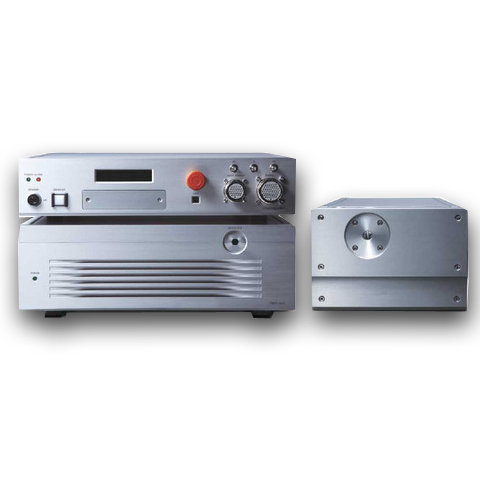 Product Overview
CW 266 nm DUV Laser Frequad Series is a deep-ultraviolet (DUV) wavelength (266 nm) continuous-wave (CW) single frequency wavelength laser which has more than 20 years of history. OXIDE's highly reliable wavelength conversion module and unique high-speed, precision voice coil motor (VCM) laser enables stable operation of CW. Depending on the output power, you can select suitable operation from three types – Frequad-HP, Frequad-M, and Frequad-C.
Features
・Ultra-high purity BBO crystal
The outstanding quality of OXIDE's own BBO crystal provides over 3000 hours single-spot lifetime at 1W output power, and over 1000 hours at 2W. Furthermore, the little deterioration of the crystal assures stable operation for a long period of time at high beam quality.
・Sophisticated servo lock technology
OXIDE's unique high-speed, high-precision voice coil motor (VCM) servo actuator offers stable CW operation of laser.
・Low power consumption
The highly efficient wavelength conversion laser system realized extremely low power consumption – less than 340W.
Specifications
Model

Frequad-HP




FQ50-20/-10

Frequad-M




FQM-10/-07/-05/-03

Frequad-C




FQC-50/-20

 

Wavelength

266 nm

266 nm

266 nm

Output power

2.0/1.0 W

1.0/0.7/0.5/0.3 W

50/20 mW

Linewidth

< 0.005 pm

< 0.005 pm

< 0.005 pm

Power Stability

< +/-1 %/8 hrs

< +/-1 %/8 hrs

< +/-3 %/8 hrs

Extinction Ratio

> 100:1

> 100:1

> 100:1

Beam Quality

TEM00, M2 < 1.2
TEM00, M2 < 1.2
TEM00, M2 < 1.3

Polarization

Vertical, Linear

Vertical, Linear

Vertical, Linear

Beam Diameter

3 mm ±0.3 mm

3 mm ±0.3 mm

0.8 mm ±0.2 mm

Divergence (1/e2)

< 0.2 mrad

< 0.2 mrad

< 0.4 mrad

Power Supply

AC 100-240V
50/60Hz
AC 100-240V
50/60Hz
AC 100-240V
50/60Hz

Power Consumption

< 300 W

< 340 W

< 70 W

Cooling

Air

Water

Air

Dimensions (Head)

240 x 840 x 160 mm

350 x 590 x 124 mm

153 x 202 x 79 mm
Applications
Semiconductor inspection
Raman spectroscopy
Photoluminescence
Disk mastering
Fiber bragg grating