ORIGAMI03XP High-energy femtosecond UV laser for micromachining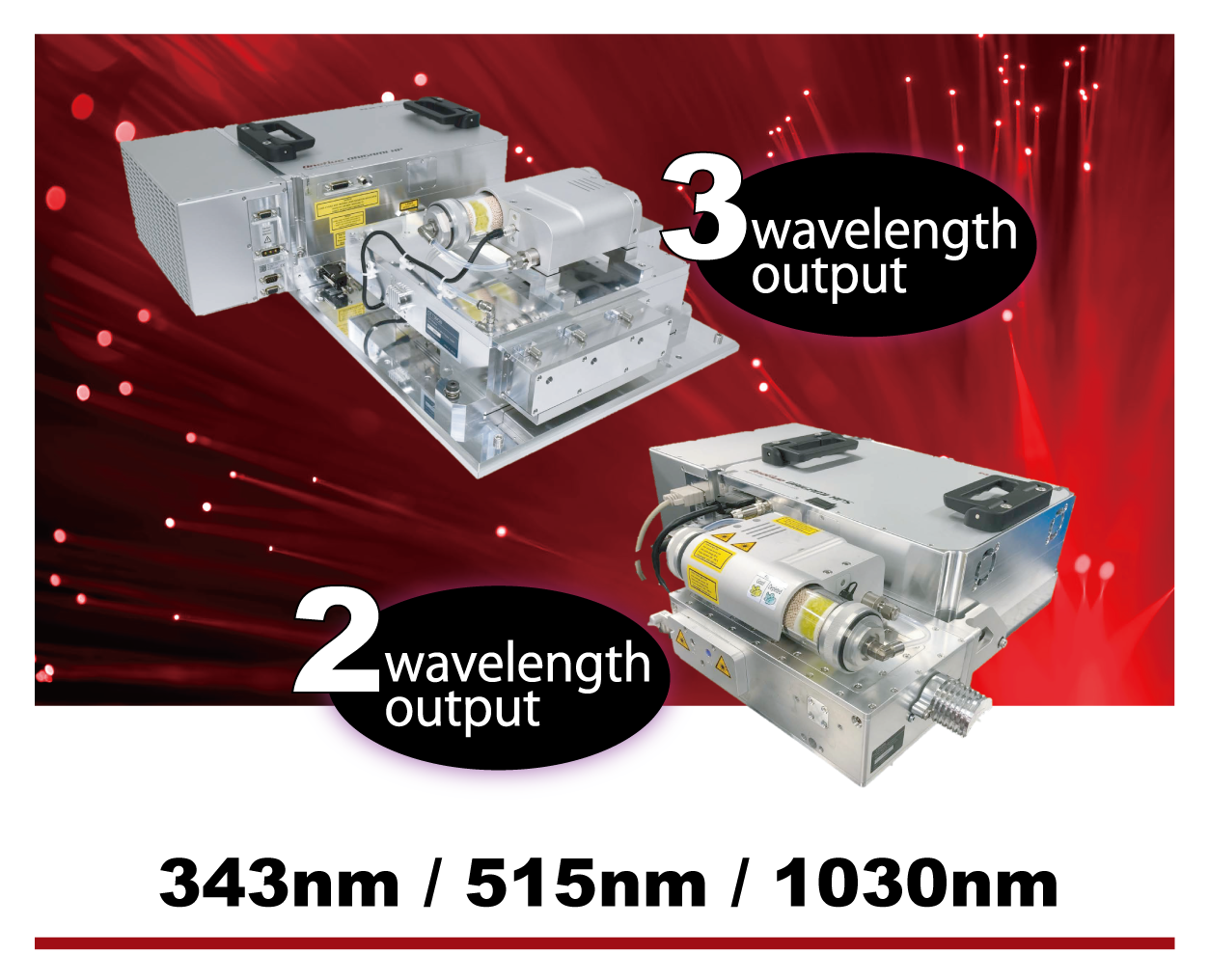 Product Overview
ORIGAMI03XP is an all-in-one, microjule, femtosecond UV laser with world's premiere reliability in UV output designed for high-precision micromachining. Over 10,000-hour UV lifetime is assured by our highest quality crystals used in the frequency conversion module. The fundamental laser, Origami XP of NKT Photonics, provides clean mode-locked pulses, superior beam quality and power stability, and unprecedented beam pointing stability by virtue of its monolithic system design (Optocage™). Thus, the laser system is capable of 24/7 operation in demanding industrial environment.
ORIGAMI03XP-3P has triple output port (1030/515/343 nm) suitable for flexible laser processing of various materials. The output wavelength can be switched via GUI application or terminal command of PC. Fast wavelength switching within 1 second is possible while laser emission.
ORIGAMI03XP-2P is the compact model with dual output port (1030/343 nm) with smaller footprint.
Features & Benefits
Longest UV lifetime (>10,000-hour) assured by Oxide's highest quality crystal
Excellent beam pointing stability by virtue of monolithic Optocage™ laser design
Fast (<1 sec) & flexible wavelength switching for efficient processing of various materials
User friendly GUI or programmable command control
Superior beam quality & clean, ideal-shaped femtosecond pulses
Air-cooled, single box for ease of integration
Specifications
Model

03XP-3P

03XP-2P

Center wavelength (nm)

1030
515
343
1030
343

Spectral bandwidth (nm)

<5
<2
<1
<5
<1

Pulse width (fs)

<400
<350
<300
<400
<350
Average power (W)1
>4
>1.5
>1.2 2
>4
>1.2

Repetition rate (kHz)

100 – 1000
Pulse energy (µJ)1
>40
>15
>12
>40
>12

Pulse selection option

Single-shot to 1 MHz, Pulse-on-demand
Beam quality, M2 (TEM00)

<1.2

<1.3

<1.3

<1.2

<1.3

Beam diameter (mm)

2.0±0.2



Beam circularity3

>0.85

Beam divergence (mrad)

<1

<1

<1

<1

<1

Polarization orientation

Horizontal

Horizontal

Vertical

Horizontal

Vertical

PER (dB)

>23
Long-term power stability (%)5
<1
<1.5
<2
<1
<2
Beam pointing stability
 (µrad) RMS, over 12 h5
 (µrad/℃) over 18-28℃ range

<30


5

<30
<10

<30
<10

<30
5

<30
5

Wavelength switching time (s)

<1

<1

<1

 
 
1  At 100 kHz rep rate. Max average power and pulse energy change with rep rate.
2  Typically >1.5 W
3  Defined by ratio of minor to major axes diameters
4  Full angle, 2σ
5  RMS, over 12 hours, at constant (±1℃) room temperature

Please refer to the data sheet for other specifications. As options, optimizing the conversion efficiency at a specific repetition rate and changing beam diameters can be available upon customer request.
Applications
Application fields of ORIGAMI03XP include:
Femtosecond micromachining
Thin film cutting
Liquid crystal display patterning
Repair of OLED display
Processing of flexible print circuit boards
Fabrication of medical devices
Links
※OXIDE is an exclusive distributor of Ultrashort Pulse UV Laser manufactured by NKT Photonics in Japan.